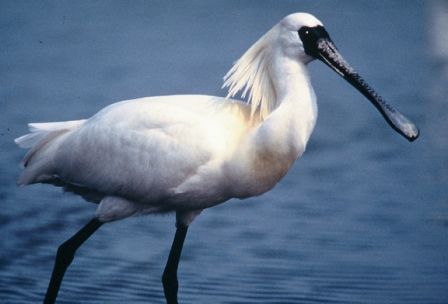 Black-faced Spoonbill - Photo Credit: Birding in Taiwan
I was in Taiwan in February for the Chinese New Year. I was visiting my in-laws in Kaohsiung county – where I ended up doing most of my birding, although I did manage to sneak in a field trip or two.
Finding a field guide was somewhat problematic. I read a few reviews on the web and asked around, and just about everyone recommended the "Field Guide to the Wild Birds of Taiwan" by Sen-Hsiong Wu. It is jointly published by the Taiwan Wild Bird Society and the Wild Bird Society of Japan. I picked-up a copy in Taiwan for about $30, as I was unable to find one here in the states. I am told that it is available through the ABA, but I did not check it out. Anyway, the paintings in the field guide are excellent, and the range maps are most useful. There are a few drawbacks to the book, the main one being that it is written entirely in Chinese – although the English and scientific names are given. In addition to Wu's book, I also used "A Field Guide to the Birds of Taiwan" by James Wan-fu Chang. I borrowed a copy from the Penn State library. It too is written primarily in Chinese, and the paintings are inferior to the Wu book; however, Chang gives brief habitat descriptions and status reports in English that I found helpful.
Anyway, here is a list of my observations. I grouped the observations by location, so there are some duplications.
Da Liao Training Area
– This
area
was about a quarter mile from my mother-in-law's house in Kaohsiung county. Part of the area in used by the Taiwanese military for training, and the rest is an abandoned cemetery that has largely overtaken by grasslands and bamboo thickets. A very small pond was also present. There were also a few hardwood trees scattered about. Overall, it was about 2-3 times the size of Sunset Park in State College.
Striated Prinia
Plain Prinia
Light-vented Bulbul
Streak-breasted Scimitar Babbler
Black-naped Monarch
Brown Shrike
Spotted-necked Dove
Arctic Warbler
Gray Treepie
Brown-headed Thrush
White's Thrush
Scaly-breasted Munia
Vinous-throated Parrotbill
Japanese White-eye
Grey-capped Pygmy Woodpecker
Common Moorhen
Old Railroad Bridge Park, Ping Tung River
– This area is a large wetlands area located in
Fong Shan
. It is adjacent to the Ping Tung River. Part of the area consists of a park and a baseball field and is pretty heavily used as a rec area, but the marshy portion has been set aside for the local wildlife, and is accessible by trails. It consists primarily of a few marshy ponds and riverside mudflats.
Light-vented Bulbul
Little Chinese Bittern
Grey Heron
Great Egret
Common Moorhen
Brown Shrike
Eurasian Tree Sparrow
Pheasant-tailed Jacana
Wood Sandpiper
Plain Prinia
Barn Swallow
Pacific Swallow
Spotted-billed Duck
Black-crowned Night Heron
House Swift
Common Moorhen
Dowtown Kaohsiung
– We were visiting the Tzu Chi Buddhist Temple in
downtown Kaohsiung
. The temple was located adjacent to the Ai River. There was a small park and a river walk along the banks, so I grabbed my binoculars and took a short walk.
Eurasian Tree Sparrow
Collared Finchbill
Brown-headed Thrush
Light-vented Bulbul
Grey Wagtail
Pied Wagtail
Common Sandpiper
Little Ringed Plover
Asian Glossy Starling
Spotted Dove
Zheng Wen River
- We went up to the Black-faced Spoonbill Conservation Area in
Cigu
(near Tainan). The area is located at the mouth of the Zheng Wen River. Virtually the entire region is occupied by fish farms of one sort or another that are subdivided by short mud walls, much in the way that rice paddies are. Anyway, there were lots of places for birds to settle down, and lots of mudflats and shallow water for them to feed in.
Black-billed Magpie
Caspian Tern
Black-winged Stilt
Common Greenshank
Common Redshank
Snowy "Kentish" Plover
Green-winged Teal
Common Sandpiper
Common Snipe
Black-crowned Night Heron
Grey Heron
Great Egret
Little Egret
Intermediate Egret
Black-faced Spoonbill
Eurasian Tree Sparrow
Northeast Taiwan
– We took a road trip up to the northeaster part of Taiwan to visit the Taroko Gorge and the Jhiben Hot Springs. During the trip, we stopped a number of places to eat, shop, etc. I took advantage of part of that time to do some birding.
Grey Heron
Cattle Egret
Great Egret
Little Egret
Intermediate Egret
Black-crowned Night Heron
Chinese Little Bittern
Ring-necked Pheasant
Common oorhen
Common Sandpiper
Spotted Dove
Oriental Turtle Dove
Red Turtle Dove
House Swift
Grey-capped Pygmy Woodpecker
Oriental Skylark
Pacific Swallow
Barn Swallow
Black Drongo
Large-billed Crow
Gray-throated Minivet
Black Bulbul
Light-vented Bulbul
Styan's Bulbul
Blue Rock Thrush
Plumbeous Water Redstart
Plain Prinia
Yellow Wagtail
Pied Wagtail
Grey Wagtail
Brown Shrike
Long-tailed Shrike
Crested Mynah
Common Mynah
White-rumped Munia
Eurasian Tree Sparrow
Overall, I observed about 65 species – most of which were lifers for me. The highlight of the trip was the Black-faced Spoonbill. There were also a few disappointments. Taiwan has about 15 completely endemic species. With the exception of Styan's Bubul, just about all of them live in the mountains. On the day we were to make a trip up into the mountains, I came down with a case of rotovirus, comlete with its attending pleasantries. As such, I missed the chance to see many of the endemics, such as the Yellow Tit, Swinhoe's Pheasant and the Formosan Magpie.