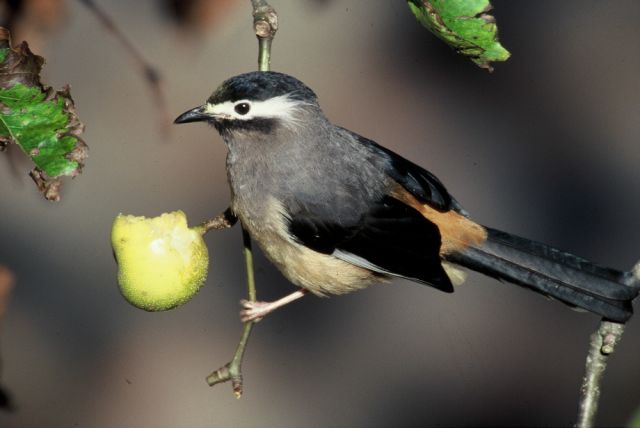 White-eared Sibia (
Heterophasia auricularis
).
Photo credit:
Huang Wen-Hsin, Birding in Taiwan
This past summer, I spent about seven weeks in Taiwan. My primary purpose was to visit with family, but, needless to say, I did a fair amount of birding while there. I was also Taiwan earlier in the year for the Chinese New Year. My birding report for that trip can be view
here
.
To prepare for the trip, I studied the field marks for the birds I was likely to see, as well as for a few target birds. I used Wu Sen-Hsiong's
Field Guide to the Wild Birds of Taiwan
as my primary guide, and Severinghaus & Blackshaw's
New Guide to the Birds of Taiwan
as a supplement. Brief reviews of both guides can be found in the post below (scroll down). In addition to field guides, I also made use of publicly accessible field recordings from the
Macauley Library
to learn the various calls and songs of Taiwan birds. Being a tropical country, Taiwan's forests are very thick with vegetation, making it difficult to find and identify birds by sight alone. Knowing the songs and calls made it easier to track down birds and identify them.
Kaohsiung County and Tungkang River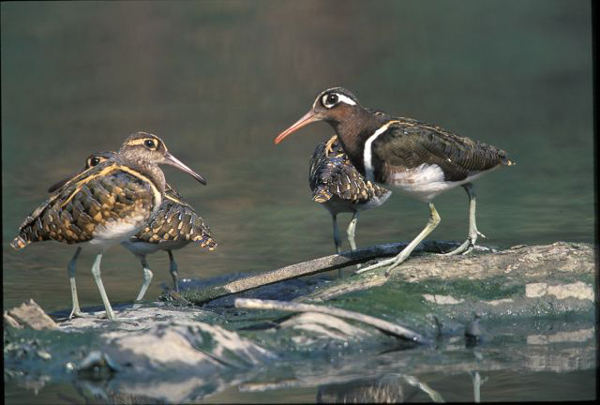 Painted Snipe (
Rostratula benghalensis
).
Photo credit:
Huang Wen-Hsin, Birding in Taiwan
I did most of my birding close to my in-law's home in western Kaohsiung county, near Daliao.
Click for map
, as well as in the agricultural areas along the Tungkang river in Ping Tung county.
Click for map.
These areas are located in the southwestern alluvial plains of Taiwan at an elevation below 50 meters. The habitats encountered were a mix of agricultural lands, mostly rice paddies and cane fields, as well as low hills that were largely overtaken by grasslands and bamboo thickets, with a few hardwood trees scattered about. A very small pond was also present. The highlights were the Painted Snipe and the Zitting Citicola – the Snipe for its wonderful plumage and the Cisicola for its entertaining flight display.
These are my observations:
Bamboo Partridge
Barn Swallow
Black-crowned Night Heron
Black Drongo
Black-naped Monarch
Bustard Quail
Cattle Egret
Collared Scops Owl
Common Moorhen
Common Sandpiper
Crested Myna
Eurasian Tree Sparrow
Gold-capped Cisticola
Great Egret
Grey-capped Pygmy Woodpecker
House Swift
Indian Pranticole
Japanese White-eye
Lesser Coucal
Light-vented Bulbul
Little Egret
Little Ringed Plover
Long-toed Stint
Scaly-breasted Munia
Orange Weaver
Oriental Turtle Dove
Pacific Swallow
Painted Snipe
Plain Prinia
Sand Martin
Spotted Dove
Streak-breasted Scimitar Babbler
Tree Pie
Vinous-throated Parrotbill
White Wagtail
White-breasted Water Hen
White-rumped Munia
Wood Sandpiper
Yellow Bittern
Yellow-bellied Prinia
Zitting Cisticola
In addition to local birding, I also made a few field trips to Kenting National Park at the southern tip of Taiwan, Alishan in central Taiwan, Taipei Botanical Garden in the north, and a very brief trip to Victoria Point in Hong Kong.
Kenting National Park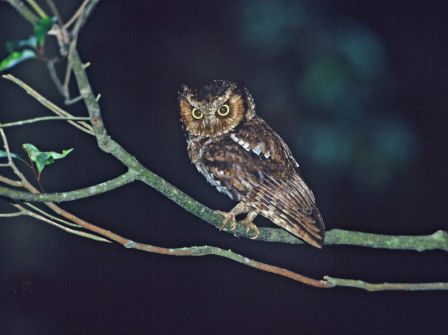 Mountain Scops Owl (
Otus spilocephalus hambroecki
).
Photo credit:
Huang Wen-Hsin, Birding in Taiwan
I have been to Kenting a number of times over the 15-20 years I have been visiting Taiwan. Overall, I have been very disappointed with the birding in the park, particularly with the
Sheding Forest Recreation Area
. The Baisha beach and other coastal areas have also been somewhat disappointing. The only bright spot I can recommend in Kenting is the
Longluan Lake
area. That being said, Kenting is a world renowned place for hawk migration, although I have never been there at that time. The highlights were the Mountain Scops Owl and the Hwa-mei.
Here are my observations:
Barn Swallow
Black Bulbul
Black Drongo
Black-browed Barbet
Black-naped Tern
Bronzed Drongo
Eurasian Tree Sparrow
Hwamei
Japanese White-eye
Mountain Scops Owl
Oriental Turtle Dove
Pacific Swallow
Red-capped Tree Babbler
Spotted-billed Duck
Spotted Dove
Streak-breasted Scimitar Babbler
Styan's Bulbul*
Grey Treepie
Alishan
Taiwan Barwing (
Actinodura morrisoniana
).
Photo credit:
小綠
Alishan was the highlight of the trip. Its highest peak is Datashan (2663 m). The elevation in the Alishan Forest area is between 2200-2400 m. The mountain range offers a chance to see many of the endemic birds, as well as other high elevation species. And the scenery was spectacular and sometimes draws your attention away form the birds.
Getting to Alishan was half the fun. We took a train to the Chiayi station. From Chiayi, we took the mountain railroad up to Fenchihu (1000 m). Fenchihu is an old railroad town with a shopping area and plenty of places to eat the famous Fenchi lunchbox – basically rice, eggs, and pickled veggies. From Fenchihu, we were picked-up by shuttle van and taken up to our hostel. We spent three days up on the mountain at the
Jane-Su Homestay
in Chiayi County. The homestay is situated at 1450 m, in the middle of a high mountain oolong tea plantation, and affords a spectacular view of the Alishan area. One feels as if they were floating on a sea of clouds. I highly recommend the homestay!
Sea of Clouds.
Photo Credit:
Jane-Su Homestay
Although the mountain roads are relatively well-marked, they can sometimes be difficult to navigate, particularly for the out-of-towner. Summer time is also typhoon season in Taiwan. As such, is it not uncommon to have small mudslides or wash-outs. As such, we hired a local guide from the homestay to drive us around.
I would typically rise just before sunrise, and bird along the roads around the homestay. The vegetation was a mix of conifers, broadleaf trees, and bamboo. Activity was extremely high – at some points at felt a bit overwhelmed with all the birds. Anyway, I did manage to regain my composure and focus on the birds at hand.
The guide would pick us up around 7:00 am, and take us around to some of the local scenic hotspots such as Titanic Rock, Shenmu (Sacred Tree), the Twin Sister Lakes, and a grove of ancient cypress trees. We also visited a local coffee plantation, and a oolong tea plantation operated by the homestay owner.
The highlights of the Alishan trip were the endemic birds (*), particularly the Taiwan Yuhina and the White-eared Sibia. Other notables include an adult Malayan Night Heron and the Large-billed Crow.
Here are my observations:
Bamboo Partridge
Brown Bullfinch
Collared Bush Robin*
Eurasian Tree Sparrow
Ferruginous Flycatcher
Green-backed Tit
Grey-cheeked Fulvetta
House Swift
Japanese Green Pigeon
Large-billed Crow
Malayan Night Heron
Mountain Scops Owl
Pacific Swallow
Plumbeous Water Redstart
Red-capped Tree Babbler
Oriental Turtle Dove
Steere's Liocichla*
Streak-breasted Scimitar Babbler
Taiwan Barwing*
Taiwan Hill Partridge*
Taiwan Laughingthrush*
Taiwan Yuhina*
Vinaceous Rosefinch
Vivid Niltava
White-eared Sibia*
White-tailed Blue Robin
Rufous-faced Warbler
Taipei Botanical Garden and Xindian River
Black-browed Barbet (
Megalaima oorti
).
Photo credit:
Birding in Taiwan
The
Taipei Botanical Garden
is situated in downtown Taipei, close to the National Taiwan University. Although the setting was primarily urban, birding in the small park was surprisingly good. We also visited the
Riverside Park
near the Xindian River. The highlights of the garden were two juvenile Malayan Night Herons, and a nesting Black-browed Barbet. The Riverside Park was home to a small colony of Sacred Ibis that apparently escaped from the Taipei zoo and are now breeding.
Here are my observations:
Black Bulbul
Black-billed Magpie
Black-browed Barbet
Black-collared Starling
Black-crowned Night Heron
Black-naped Monarch
Cattle Egret
Crested Myna
Eurasian Tree Sparrow
Great Egret
House Swift
Besra
Japanese White-eye
Light-vented Bulbul
Little Egret
Malayan Night Heron
Oriental Turtle Dove
Pacific Swallow
Rock Pigeon
Sacred Ibis
Spotted Dove
Streak-breasted Scimitar Babbler
Gray Treepie

Hong Kong Trail
Red-whiskered Bulbul.
Photo Credit:
Nikhil Devasar, Oriental Bird Club
I also made a very brief (overnight) trip to Hong Kong. Didn't have much time to bird, but I did manage to sneak about 2 hours in to walk the Hong Kong Trail around Victoria Point. It was rather late in the morning (10:30) and quite warm (40 celcius), but I did manage to see and hear a few birds. The highlights were the Red-Whiskered Bulbul and the Blue Whistling Thrush.
Here are my observations:
Black Kite
Blue Magpie
Blue Whistling Thrush
Crested Myna
Eurasian Tree Sparrow
Japanese White-eye
Lesser Sulphur-crested Cockatoo
Light-vented Bulbul
Masked Laughingthrush
Oriental Magpie Robin
Red-whiskered Bulbul
Overall, I observed about 82 species – 43 of which were lifers for me. The overall highlight of the trip was the Taiwan Yuhina and the White-eared Sibia. Although these birds are fairly common in the mountains, I just found them absolutely spectacular to watch There were also a few disappointments. Taiwan has 16 completely endemic species according to the
Clements Checklist
of Birds (or 22 by
IOC guidelines
), all of which I had targeted for the trip. I observed eight of the endemics on this trip (Collared Bush Robin, Steere's Liocichla, Taiwan Barwing, Taiwan Bulbul, Taiwan Hill Partridge, Taiwan Laughingthrush, Taiwan Yuhina, and White-eared Sibia). There are still seven more that I did not get the opportunity to see, particularly the Formosan Blue Magpie. We had intended to spend more time in the moutains near Huben and Hualien, but two typhoons (Kalmaegi & Fung-wong) hit the island and dumped several feet of water, and washing-out a number of roads ad bridges, as well as causing a few mudslides.
On the bright side, I now have an excuse to go back!