Wilson's Warbler, Wilsonia pusilla
Photo Credit:
Michael Woodruff
Each spring and fall, birdwatchers look forward to the return of migrating birds. Among the birds they most anticipate are the wood-warblers. Wood-warblers are deserving of attention, not only for their spectacularly colored plumages, but also for their diversity. More than 50 species can be observed in North America
As most birders know, identifying warblers takes some practice. Males are usually easier to identify than females due to their bright colors and distinctive patterns. Knowing their songs and calls is also immensely helpful. Identifying the females is a more difficult, as their plumage tends to be a dull, washed-out version of the males. Once fall rolls around, warbler identication can be a bit tricky. Males have already begun to molt, and have lost most of their breeding plumage. In addition, juvenile birds are present, and typically look more similar to females than males. A few previously distinct species begun to look more similar to each other.
Warblers themselves don't always cooperate either. For starters, they are small birds - about 4 to 5 inches long. And they don't sit still - they are very active, hoping from branch to branch gleaning insects. In addition, many warblers spend a lot of time in dense foliage or up in the canopy of trees, making observation challenging.
Although each species of warbler has its own habitat requirement, they generally prefer mature woods and heavy brush. As such, warblers can usually be found in many state parks or gamelands. Many birds have found that forest edges or clearings often provide the best opportunites for spotting warblers. Flycatchers tend to like these areas as well.
Another thing to keep in mind is that warblers are always on the move. They tend to travel in mixed species flocks, typically with several other warbler species. Sometimes, one only has to stand in a good spot for a few minutes and simply wait for a wave of warblers to come by. Chickadees are also a favorite travelling partner of warblers. As such, one can often track down warblers by listening for the chatter of chickadees.
In State College, PA, there are several good places to view warblers, including the Scotia Barrens, Bear Meadows, Toftrees Gamelands, and Lederer Park. To be sure, the occurance of warblers is not limited to these parks. Any place with suitable habitat will likely yield warblers.
If you happen to be in State College, and you are looking for a place to do a little bird watching, here are some places you might want to go.
Lederer Park
Blackburnian Warbler,
Dendroica fusca
Photo Credit:
Wikipedia
Lederer Park is located on University Drive, between College Avenue and Atherton Street. Click
here
for directions. The park contains a mix of decidous hardwood trees and conifers with a shrubby understory. The park is also home to the Evans Oak Arboretum. The central area of the park is maintained as a mowed field. Around the perimeter of the field is a short hiking trail. The trees and shrubs adjacent to the trail are the best place to observe warblers. Among the Warblers to be found here are Nashville Warblers, Black-throated Green Warblers, Magnolia Warblers, and Chestnut-sided Warblers. Philadelphia Vireo have also been observed here.
Toftrees Gamelands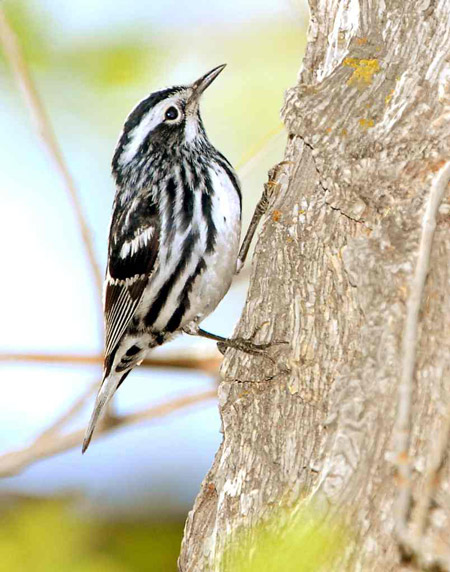 Black & White Warbler,
Mniotilta varia
Photo Credit:
Utah Birds
Toftrees Gameslands (SGL 176)is a managed hunting area. The area is irrigated daily with treated wastewater. The habitat in the gamelands is a mix of forest and farmland habitat. There are also a number of artifical ponds, the largest of which is located adjacent to the Tofrees Golf Course. Toftrees gamelands are located behind the Toftrees Resort and Golf Club. Click
here
for directions. The easiest way to access the gamelands is to park in the hunter's parking lot just off Cricklewood Drive,
adjacent to
the Ale House parking lot. The best places to find warblers are in the trees and shrubs surrounding the artificial ponds. Toftrees is a good place for Yellow Warblers, American Redstarts, Common Yellowthroats, and Yellow-rumped Warblers. Toftrees pond is also a good place for ducks and shorebirds.
Bear Meadows
Black-throated Blue Warbler,
Dendroica caerulescens
Photo Credit:
Michael Hogan
Bear Meadows
is a remnant boreal bog encompasses 320 acres. The dominant tree species are black spruce and balsam fir. There are also a number of deciduous trees, and a thick understory dominated by rhododendron and high-bush blueberry. Bear Meadows is located in the Rothrock State Forest. It is just of Rt. 322, on Bear Meadows Rd, a few miles past the Tussey Mountain Ski area. Click
here
for the map. The best place to park is in the small parking area near the National Natural Landmark headstone. Warblers are abundant on the hiking trails bordering the swamp, as well as Sinking Creek. Bear Meadows is a good place to find Wilson's Warblers, Hooded Warblers, Canada Warblers, and Black-throated Blue Warblers.
Scotia Barrens
Blue-winged Warbler,
Vermivora pinus
Photo Credit :
Wikipedia
Scotia Barrens
is also part of SGL 176 and is a managed wildlife area. The vegetation in the Barrens is dominated by Pitch Pine and Scrub Oaks. Ruffed Grouse and American Woodcock are abundant here. The Barrens are located in west of downtown State College, just off of Rt. 322. Click
here
for a map. Parking in the gamelands is not a problem. There are a number of area adjacent to the Scotia Range Road where one can simply pull over. Just be careful not to block access to any of the gated service roads. Warblers can be observed just about anywhere in the barrens, but the best places are the Scotia Pond, the "research station", and the large
Welcome
sign (which is located about two miles from the enterance). Among the warblers that can be observed here are Blue-winged Warblers, Golden-winged Warblers, Ceruelean Warblers, and Cape May Warblers. Flycatchers are also abundant here.
To get a more detailed list of all the birds that have been observed in the State College area, you can check
eBird
or the
State College Bird Club
. The bird club web site also has information for other birding hotspots.