Burrowing Owl (
Athene cunicularia
).
Photo credit:
Birds of Sanibel
This past holiday, I spent New Year's week in Florida visiting relatives and soaking up some sunshine. Needless to say, I planned to do a fair amount of birding while there. As I have been to Florida several times before, I was not expecting to see anything exotic, but one can always hope to come across a vagrant from the West Indies. Perhaps a Bahama Mockingbird or a La Sagra's Flycatcher? Unfortunately, there were no vagrants observed, but there were quite a few exciting birds.
To prepare for the trip, I studied the field marks for the birds I was likely to see, as well as for a few target birds. I used Sibley's
Field Guide to Birds of Eastern North America
as my primary guide. I also used the Bill Pranty's
A Birder's Guide to Florida, 5th Edition
, which is available from
ABA sales
. I found this guide to be most valuable. The book is not a field guide, but rather a guide to find the best places to observe birds. It describes over 300 birding sites throughout the state, including exact locations of species that can be seen there. In addition, the book also gives website site URLs so that one can preview a given area, and physical addresses that can be dropped right into your GPS system to help you find the sites easier. In several cases, target birds were literally found exactly where the guide said they would be.
Pranty's
Birder's Guide to Florida
Central Florida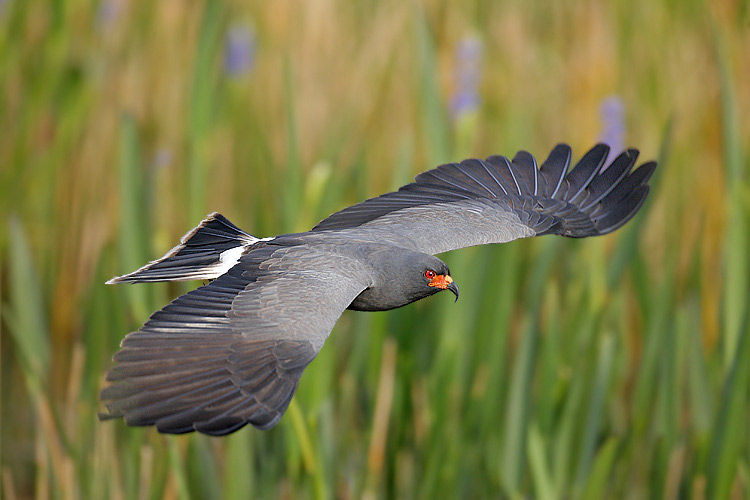 Snail Kite (
Rostrhamus sociabilis
).
Photo credit:
Jim Neiger
I did most of my birding within 30 minutes of the hotel we stayed at in Kissimmee. The main locations were Lake Toho and East Lake Toho. The highlights were the Snail Kite and the Monk Parakeet. At first glance, the white rump of the Snail Kite led me to believe that it was a Northern Harrier. Its behavior was also consistent with the Harrier. I almost brushed it off without looking through my binos. Tree Swallows were also plentiful. Just before sunset, a large flock (10,000+) was observed swarming over the lake. The Monk Parakeets were also exciting to see. I encountered them at the old Kissimmee Power Station near East Lake Toho – precisely where the Pranty guide said they would be. I also observed the parakeets at a few other sights, as they appear to have established a stable feral population.
We also made brief stops at several parks and springs north of Orlando to take in the wildlife. The target species for the springs were not avian, but rather mammalian. We were looking for manatees. De Leon Springs did produce one manatee, but the water was murky and visibility was poor. We did catch a brief glimpse of one proboscis, as its owner snatched a quick breath and submerged. We also took a nice tour of the river, catching views of lots of birds (mostly waders). Later, we stopped at Blue Springs Park. There the water was much clearer and the manatees were more plentiful. We observed at least 40 manatees while there. The ranger counted 72 for the day. As far as birds go, Blue Springs was disappointing. We spotted mostly Anhingas and Cormorants. There was one Eastern Pewee back by the source of the spring, but that was about it.
These are my observations:
Great Egret
Snowy Egret
Great Blue Heron
Cattle Egret
Little Blue Heron
Tri-colored Heron
American Bittern
Sandhill Crane
Killdeer
White Ibis
American Coot
Common Moorhen
Anhinga
Double-crested Cormorant
Ring-billed Gull
Ring-necked Duck
Eurasian Collared Dove
White-winged Dove
Monk Parakeet
Snail Kite
Osprey
Northern Cardinal
Palm Warbler
Eastern Pewee
Tree Swallow
In addition to local birding, I also made a few field trips to Merritt Island and the Canaveral National Seashore on the East coast, and several parks in the vicinity of Fort Lauderdale in the South Florida.
Merritt Island & Canaveral National Seashore
Mottled Duck (
Anas fulvigula
).
Photo credit:
John Inram
The drive to Titusville took about two hours from the Orlando area. Once we arrived in Titusville, birds started showing up. They were mostly Ring-billed Gulls and Boat-tailed Grackle, but there was a sizable flock of Black Skimmers at the bridge between the island and the mainland. At Merritt Island, we spent the entire trip along the Black Pointe Wildlife Drive. It's about a seven mile drive, with several places to stop and hike around. We spent about 3 hours on the drive, stopping frequently to check out the birds – and the gators. The ponds along the drive supported thousands of water fowl and waders. The majority of the fowl present were American Coots and American Wigeon, but there were also a nice mix of Shovelers, Teal and Pintails. Stand-outs for me were the Mottled Duck and Virginia Rail, but the highlight was undoubtedly a pair of Florida Scrub-Jays near the Ranger's kiosk by the enterance.
Florida Scrub-Jay (
Aphelocoma coerulescens
).
Photo credit:
Faizani
The Canaveral National Seashore is less than 10 minutes drive from Black Pointe Drive. We arrived there about an hour before sunset, and mostly walked the beach looking for seashells. As always, I brought my binos just in case something should pass by. I bumped into a local woman on the beach. She also had binos and was scanning the horizon. I assumed she was looking for birds, but it turns out that Right Whales were migrating. Of course they weren't there while I was there, but I did spot a three Northern Gannets and a handful of Brown Pelicans during the search, so it was not entirely fruitless.
Among the birds working the beach, were Ruddy Turnstones and Black-bellied Plovers. There were also a number of Ring-billed Gulls and several Royal Terns making their way down the beach. The highlight for me was the Sanderlings. Although I have seen them countless times, I never cease to enjoy their choreographed dance with the surf line.
These are my observations:
Tri-colored Heron
Snowy Egret
Great Egret
Little Blue Heron
Great Blue Heron
Double-crested Cormorant
American Wigeon
Northern Pintail
Blue-winged Teal
American Coot
Common Moorhen
White Ibis
Glossy Ibis
Willet
Yellowlegs
Killdeer
Black-bellied Plover
Sanderling
Western Sandpiper
Ruddy Turnstone
Wood Stork
Sandhill Crane
Brown Pelican
Pied-billed Grebe
Hooded Merganser
Northern Shoveler
Mottled Duck
Sora
Virginia Rail
Northern Gannet
Royal Tern
Black Skimmer
Ring-billed Gull
Great Black-backed Gull
Osprey
Bald Eagle
Black Vulture
Red-shouldered Hawk
Belted Kingfisher
Fish Crow
Florida Scrub Jay
American Kestrel
Gray Catbird
Boat-tailed Grackle
Tree Swallow
Palm Warbler
Yellow-rumped Warbler

Fort Lauderdale Area
Loggerhead Shrike (
Lanius ludovicianus
).
Photo credit:
Kaweah River Birds
We also made a road trip down to the Fort Lauderdale area to visit my in-laws. The ride down takes about 3 hours or so from Kissimmee. One of the highlights was the two dumps we passed on the way down. There were literally thousands of Black Vultures feeding at the dumps and circling in kettles above. Once we reached our destination, we set out to look for birds. Specifically, we were looking for Burrowing Owls. According the Pranty, Brian Piccolo Park (Piccolo was memorialized in the 70's telemovie Brian's Song) is a reliable place to see the owls. We were not disappointed. I asked the attendant at the kiosk for the location of the burrows. She pointed out several for me, but said I probably would not see any due to a girls softball tournament that was going on that day. The first two burrows produced no owls, but the next four I checked had 2-3 owls each. I was surprised at how well acclimated the owls were to people. The were several softball games going on simultaneously. Families were picnicking all over the fields and kids were running around making lots of noise. Nevertheless, the owls were all perched at the mouth of their burrows – sometimes only a few feet from a family on lawn chairs or kids wrestling. The owls seemed unfazed by all the excitement. My wife even got a few good shots with her point-and-shoot digital camera.
In addition to the owls, we also found a nice sized flock of about 20-25 Monk Parakeets. They too were unaffected by all the activity. Several Loggerhead Shrike were also observed at the back end of the park near a canal. They were catching insects and anoles.
On the way back to my in-laws restaurant (Red Ginger in Coral Springs), we made a stop at the John U Lloyd Seashore to swim. Again I brought my binos – just in case. Overall, the beach was disappointing. There was also a Mangrove Trail we wanted to explore, but the trail was not maintained and could not be hiked. The beach did produce a few birds, mostly Brown Pelicans and Laughing Gulls, but there were a few Gannets as well. The Gannets observed here, like those at Canaveral, were mostly immature birds. With the naked eye, I initially thought I was seeing Brown Boobies. However, once I trained my field glasses on them, I was convinced that they were not. The white upper tail coverts were pretty clear.
Photo credit:
Wikipedia
Before heading back to Kissimmee, we stopped at Tree Tops Park. Overall, the park was pretty quiet. Our target there was a La Sagra's Flycatcher that had been reported to winter there. Unfortunately, we did not find it. The boardwalk trail around the marsh produced only a Cormorant and a Green Heron. We then hiked the hammock trail looking for warblers and found quite a few. Two species of vireo were also observed.
These are my observations:
Little Blue Heron
Great Blue Heron
Tri-colored Heron
Green Heron
Cattle Egret
American Coot
Common Moorhen
Anhinga
Double-crested Cormorant
White Ibis
Laughing Gull
Brown Pelican
Northern Gannet
Belted Kingfisher
Eurasian Collared Dove
Wild Turkey
Bald Eagle
Burrowing Owl
Monk Parakeet
American Kestrel
Boat-tailed Grackle
Loggerhead Shrike
Boat-tailed Grackle
Blue-gray Gnatcacher
Blue-headed Vireo
Yellow-throated Vireo
Black & White Warbler
Black-throated Green Warbler
Palm Warbler
Yellow-rumped Warbler
Northern Mockingbird
Overall, I observed 71 species – five of which were lifers for me. The overall highlight of the trip was the Burrowing Owls. There were disappointments, as there were several target species that we did not get the opportunity to see - particularly the Roseate Spoonbill and the Limpkin. We had also intended to spend more time around Kissimmee – particularly in the Three Lakes WMA and Joe Overstreet Road (both near the south end of Lake Kissimmee) where we were targeting the Brown-headed Nuthatch and Red-cockaded Woodpecker. On the bright side, I now have an excuse to go back!