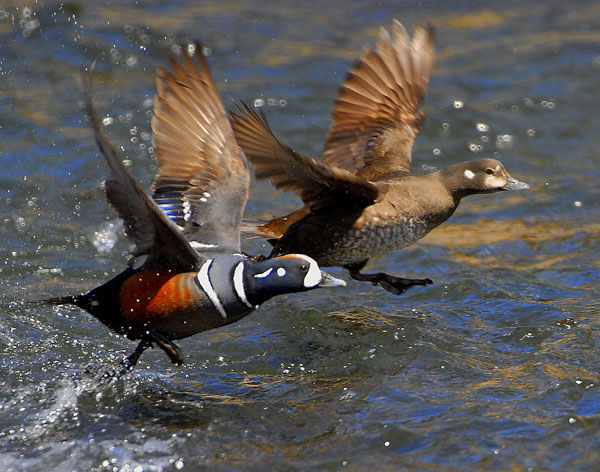 Harlequin Ducks
Image Credit:
Paul Higgins
As 2010 draws to a close, I sit here in my man cave, banjo at my side, nursing a cold. I was initially planning on hitting the hot spots around town to take in some birds and to make a last gasp attempt to add a few species to my state and county year lists. Instead, I am popping Actifed, wiping snot off my beak, and sipping Earl Grey Tea (the best thing the British ever did!).
Not one to sulk (much), I decided that it would be a good time to review my bird sightings for the year. After birding, thinking about birding is the next best thing! So I pulled up my iTunes play list, hit shuffle, and started sifting though my field notes & eBird records. Turns out I had quite an interesting year!
Florida
Common Ground Dove
Image Credit:
Phil Jeffrey
I started the year in Florida
(trip report)
– on Sanibel Island. I had already spent the previous day (Dec 31st) at Ding Darling NWR, where I picked up a few lifers. Early on New Years Day, I hit the beach at first light to hunt for seashells with the kids. Naturally, I bought along my binoculars and spotting scope. Got my first bird of the year – a Common Ground-Dove - in a small patch of dune grass between the beach and the Island Inn. Lots of birds on the beach as well: Sandwich Terns, Sanderlings, Snowy Plovers, White Ibises, etc. The rest of the island was fantastic for birds. Spent a few hours at Ding Darling NWR before hitting the road to Venus...Venus, Florida.
The main purpose of the journey to Venus was to visit Jacque Fresco and Roxanne Meadows of the
Venus Project
- the activist arm of the
Zeitgeist Movement
. Following the visit, I managed to do a little birding around the area. The highlights were a Yellow-throated Warbler (a Florida first for me), lots of Sandhill Cranes and a scattering of owl pellets.
Brown-headed Nuthatch
Image Credit:
Errol Taskin
Then it was back to Kissimmee, the home of fiddling legend Vassar Clements. We stayed in central Florida for a few days. I spent most of the time birding around the numerous lakes in the region, seeing many of the expected water birds: Little Blue Herons, Cattle Egrets, Wood Storks, etc. I also made a diversion to the
Disney Wilderness Preserve
. The preserve was set aside by Disney as part of a mitigation effort to restore some of the wetlands Disney filled-in to build their sprawling monument to consumerism. The habitat at the preserve is a mix of wetlands, flatwoods, and scrub. My target species were Loggerhead Shrike, Bachman's Sparrow and the Brown-headed Nuthatch, all of which are year-round residents. The shrike was easy, as they are abundant in the preserve. Unfortunately, I was unbable to locate the sparrow, but I did see a mixed flock of birds that included the Nuthatch, as well as Yellow-rumped and Pine Warblers.
Spring Migration in Pennsylvania
Although I continued to casually bird throughout the winter months, I spent most of my time on other pursuits. With the exception of Golden Eagles at the
Tussey Mountain Hawkwatch
, I did not see much worthy of note. Once spring was in the air, I was back out on a more regular basis.
Red-necked Phalarope
Image Credit:
Jeremy Early
For me, the highlights of spring are the migrating shorebirds and the return of the wood warblers. This year was particularly exiting, in that I picked up a few lifers in unexpected places. Most notable are two species of phalaropes, the Wilson's Phalarope and Red-necked Phalarope , which were initially reported by Matt O'Donnell and Drew Weber, respectively, at the Julian Wetlands.
I also attended my first
PSO Meeting
at Presque Isle on Lake Erie. I spent the weekend birding with many of the state's most-experienced birders. I certainly learned quite a bit. And I picked-up two more lifers on the trip, a Mouring Warbler and a Prothonotary Warbler.
Summer Birding in Asia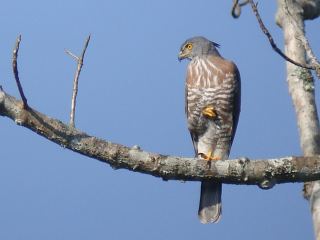 Crested Goshawk
Photo credit:
Birding2Asia
Once the kids were out of school, we loaded up the gear and headed across the pond to Taiwan
(trip report)
. In Taiwan, I did most of my birding in two locations in Daliao, Kaohsiung County – the Zhong Zheng rice paddies
(photo essay)
and the campus of the Taiwan Military Academy. The highlights were the Emerald Dove and Crested Goshawk at the Military Academy, and the Ruddy-breasted Crake and Common Kingfisher at the rice paddies.
We then headed across the strait to mainland China to attend the World Expo in Shanghai and visit family in central China. Again, I bought the binoculars along
(trip report)
. Shanghai was devoid of both birds and culture. It's like Manhattan without Central Park and Times Square. With the exception of a flying turd – aka Eurasian Blackbird – Shanghai was a forgettable place. The Blackbird was only memorable because it was a lifer for me. Otherwise, it's a downright ugly bird.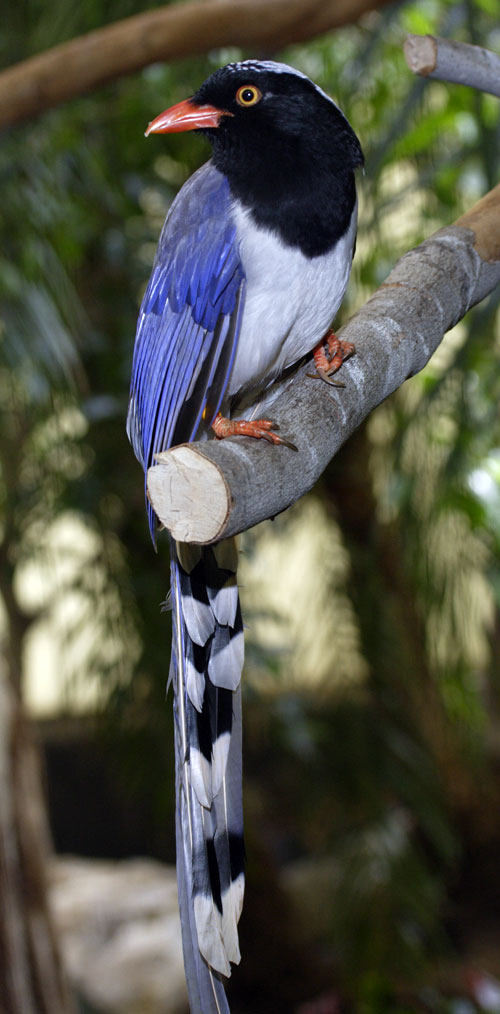 Blue Magpie
Image Credit:
Birds of Shanghai
Xi Hu (West Lake) is about an hour or so by train from Shanghai. It's a popular vacation spot for the locals. Despite the crowds and the urbanization, there were a surprisingly attractive mix of birds to be seen in the area, including Red-billed Starlings and Blue Magpies.
We then headed west to Guilin, in Guanxi Province. The scenery there is breathtaking! The karst mountains are legendary, and have been influential to countless Chinese poets and artists. Birding there was one of the best experiences of the year. The highights were a Dollarbird & Collared Crows along the Li Jiang.
Chinse Pond Heron
Image Credit:
Penang Birder
Our next destination was Huangmei, in Hubei Province, for a family reunion. The area where we stayed was pretty rural – dominated by cotton, soy and various vegetable crops. Although I didn't have much time to bird, I did manage to sneak away and roam the countryside for a few hours with my binos and a copy of Mark Brazil's
Birds of East Asia
(read my book review here)
. The highlights were Whiskered Terns, Chinese Pond Herons, Long-tailed Shrikes and Yellow-billed Grosbeaks.
Over the course of my stay, I observed 121 species, 25 of which were lifers for me.
Back Home Again
Like John Denver sang,
Hey it's good to be back home again
. Although I enjoyed the time in Asia, I was looking forward to getting back state side. Eating food from restaurants and street vendors, sleeping in a different bed everynight, and getting the Chinese version of Montezuma's Revenge is enough to make anyone long for home. And besides, it was getting close to the start of fall migration. Next to spring migration, fall migration is the best time for birding.
This fall was very productive for birding. It seemed there were a lot more birders out and about finding (and reporting!) lots of interesting birds. Shorebirds were particularly good this year. The highlights were some Baird's Sandpipers out at Bald Eagle SP (reported by Greg Grove) and Colyer Lake. Colyer also yielded a few Pectoral Sandpipers, as well as Least and Semi-palmated Sandpipers. A few weeks later, a Sanderling turned up on the beach at Bald Eagle.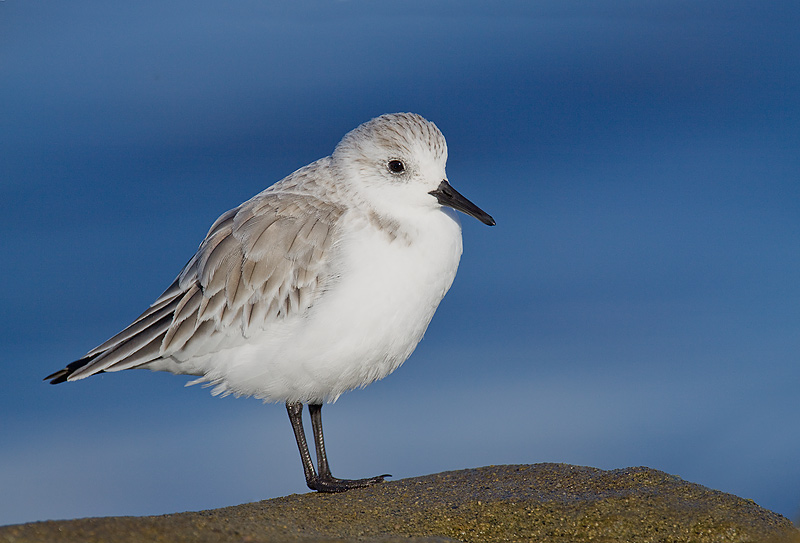 Sanderling
Image Credit:
Arthur Morris
Warblers were also plentiful, with unusually large numbers of several species. The highlight for me was my big fall-out day
(report)
at Scotia Barrens which occurred, oddly enough, on my birthday. I had over 200 ticks for 18 warbler species in just a few hours.
Perhaps the most interesting sighting I had was a hummingbird that came to my feeders for a few days. In late August, I had an unusual hummingbird with a bright orange gorget, rather than the ruby-red gorget one would expect for the local Ruby-throated Hummer. The hummer also had some rufous spots on its lower back, just above the tail. Turns out that it was one of the
Selasphorus
hummingbirds (Rufous or Allen's), but I was unable to pin it down to the species level.
Little Big Year – sort of
Somewhere between the end of summer and the beginning of fall, I realized that I was in striking distance of getting 200 species within the state, and possibly within the limits of Centre County. While not a monumental feat, it would represent a personal milestone for me. Although I don't consider myself an avid lister or twitcher, I must admit I was a bit enamored with the idea of trying to put together a list for myself. This is undoubtedly the influence from several of the many bird-themed books I read over the past year, such as
Kingbird Highway
and
The Big Year
. Anyway, I figured I give it a shot.
Snow Bunting
Image Credit:
Tim Zurowski
In order to reach the modest goal, I was gonna have to get lucky. Since I had been away in the summer, I missed a few "easy" birds like the Black-billed Cuckoo. I made a list of the birds I needed and began to search them out, one by one. Thanks to the help of other birders reporting their observations, and some of my own right-place at the right-time luck, I was able to knock quite a few birds off my list, such as Eared Grebe, Black Scoter, White-wing Scoter, Dunlin, Snow Bunting, Rough-legged Hawk, and Harlequin Duck.
I hit the 200 mark for the state on November 1st, thanks to Drew Weber's report of Black Scoters at Bald Eagle. I finished the year with 214 state birds. The Centre County list was a bit tougher. I entered December needing 9 birds to hit the 200 mark. While I gave it the old college try, I ended up the year a few short of the target. I finished with 196 birds for Centre County.
2010 Summary
Overall, I observed 315 species worldwide, including 36 lifers. That brings my world life list up to 502 species – 340 US birds and 162 birds outside the US.