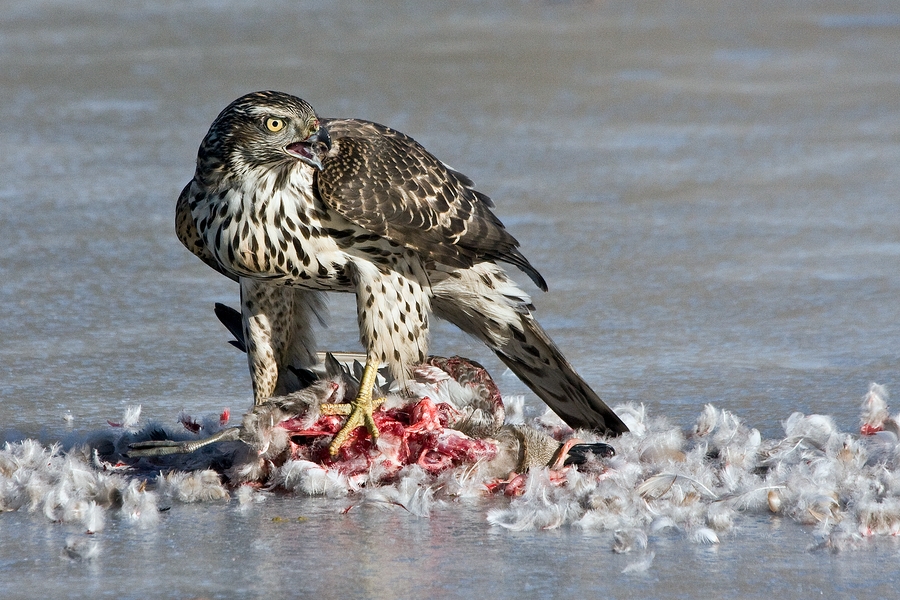 Northern Goshawk, juvenile
Image Credit:
Nature Pics
2010 is history! Time to start a new bird list for 2011!
My goal this year is to find 220 species within the state (PA), and 200 within the limits of Centre County. Both goals are modest and achievable. The county mark is a bit tougher, but I should be able to hit it if I pick a few rarities during the spring and fall migrations. In addition, I gotta make sure I pick up the easy birds I missed this past year (Herring Gull, Red-breasted Merganser, Screech Owl, Black-billed Cuckoo, Northern Waterthush, etc).
I got 365 days to get it done! Figured that New Year's Day was good a day as any to get started.
First bird of the year was an American Crow. I have a few that roost in the spruce trees in my yard. Having them around makes my alarm clock optional.
I hit the Centre Furnace Duck Pond at first light and picked up a few gimmes, like the Mallard, American Black Duck and Canada Goose. Also got a few regulars like the Kingfisher, Ring-necked Duck, Northern Shoveler and Redhead.
Next it was off to Millbrook Marsh where I added the House Sparrows that nest under the barn eaves, the Carolina Wrens taking up residence around the bird blind, and a few Song Sparrow I spotted along the boardwalk.
I spent the rest of the morning at Toftrees Gamelands (eastern part of SGL 176). Activity was quite high there this morning. Got all the common woodpeckers (Downy, Hairy, Sapsucker, Flicker, Red-belly & Pileated). Also got some finches (Gold, House and Purple), sparrows (White-throats, Juncos, Tree) and thrushes (Bluebird, Hermit).
After lunch I went out to Bald Eagle State Park. Picked up some Rock Pigeons, Mourning Doves, Kestrels, Red-tailed Hawks and a Cooper's Hawk along route 220 on the drive out. Once I arrived at the park, I spent about 4 hours walking around in the intermittent drizzle looking for the Northern Shrike that is lurking there, but came up empty. But all was not lost. I picked up a juvenile Northern Goshawk late in the afternoon as I was getting ready to leave.
The Goshawk was a lifer for me - #503! It was perched in a small tree adjacent to the road (between the Frog Pond and the Inn). I pulled the car over and got some really good looks from a distance of about 30 yards. Awesome bird. Big hawk. Confirmed the ID by the size, uneven tail bands and the distinct white supercilium.
Ended the day with 39 species. What a great way to start the year!